Many people underestimate the importance of having a flashlight while shooting photos and videos.
Whether you're using an action camera or a regular camera, a flashlight can come in handy in many situations. Here are some reasons why a flashlight is a must-have piece of equipment:
1. When you're shooting outdoors in the dark, a flashlight can help you see what you're doing and capture better images and videos.
2. If you're shooting indoors, a flashlight can help you see what's in the frame and avoid unwanted shadows.
3. If you're shooting in low-light conditions, a flashlight can help you get better shots by providing more light.
4. If you're shooting during the day but there's not enough light, a flashlight can help you add more light to your scene and get better shots.
So whether you're an amateur photographer or a professional videographer, don't leave home without your flashlight, because that also helps you to protect your camera!
What is an action camera flashlight and what are its uses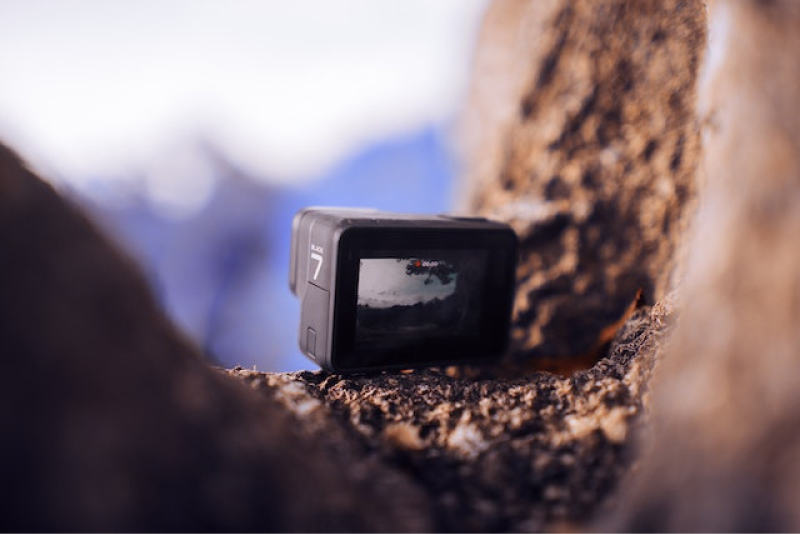 An action camera flashlight is a small, compact flashlight that is designed to be used with action cameras. It is typically very bright and has long battery life.
Action camera flashlights are useful for shooting photos and videos in low-light conditions, and they can also be used to add more light to scenes that are too dark.
Here are the 9 best action camera flashlights on the market today: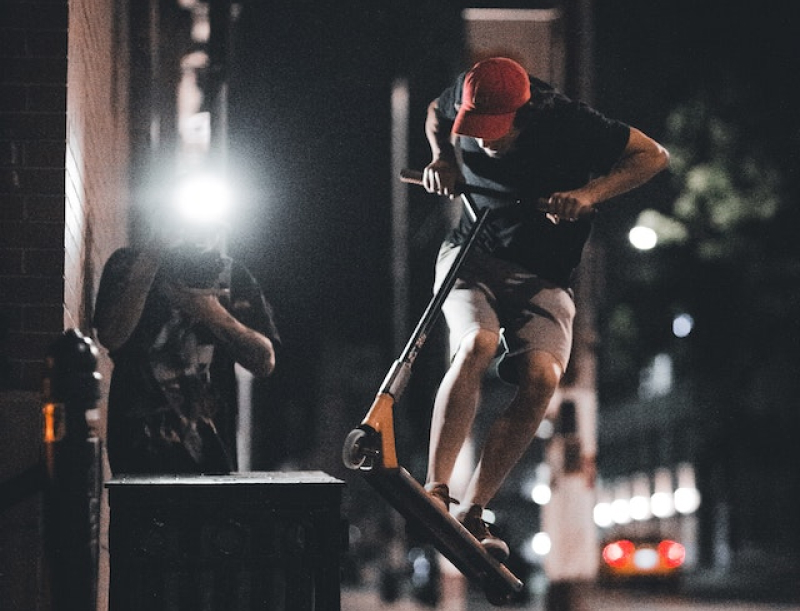 Introducing the 9 best action camera flashlights on the market today. When looking for a flashlight to use with your action camera, there are a few factors to consider.
The most crucial factor is brightness. You'll want a flashlight that is bright enough to light up your surroundings and help you capture clear videos or photos.
Other factors to consider include beam distance, weight, and durability. If you're looking for a flashlight that can also be used as an emergency beacon, then you'll want to consider features like strobe mode and SOS signal.
Suptig Waterproof Action Camera Flashlight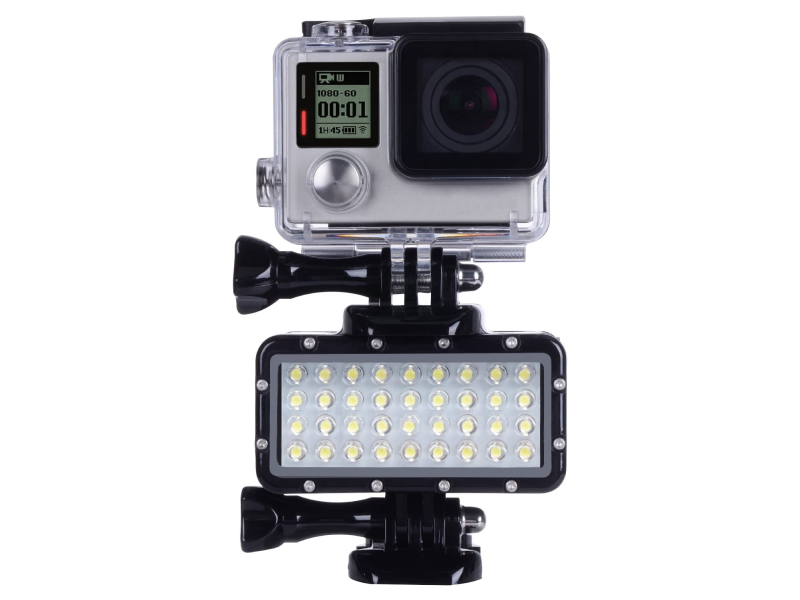 The Suptig flashlight is a great choice for underwater applications! It's water resistant up to 45 meters (147 feet) deep and lightweight, weighing only 81 grams.
The small size makes it easy to carry around with you on your next adventure -the 36 LEDs provide even lighting at any angle no matter where you are in the water or what kind of weather conditions there may be outside too!
The Suptig waterproof action camera flashlight has three lighting modes – the brightest one (HI) reaches 500 lumens. In this mode, it lasts up to 1 hour and 15 minutes on a single charge but you can use power-saving options which will last between 4-6 hours!
The longest-lasting option is SOS where your light could shine continuously for over 6hrs without needing any more juice from an external source or battery pack attached itself internally within its frame when turned off manually after pressing buttons located at either side if desired
GoPro Light Mod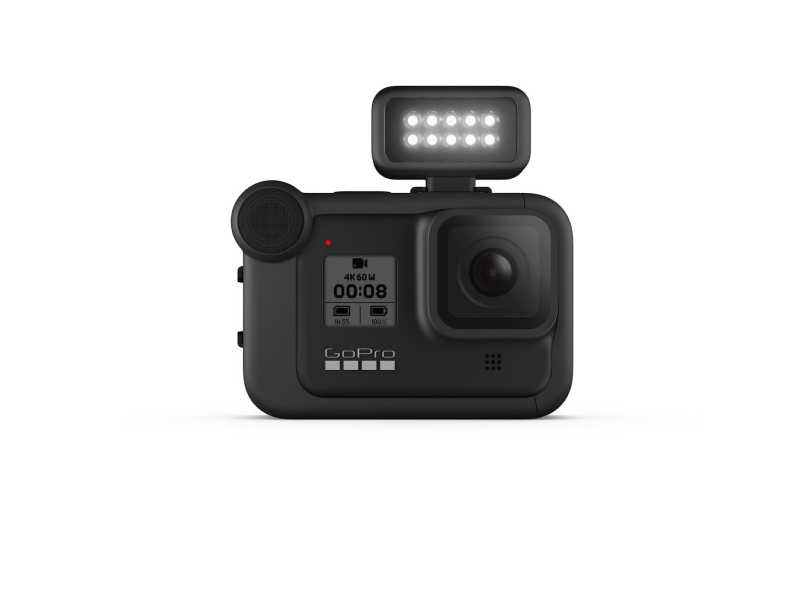 The GoPro Light Mod is an excellent underwater action camera flashlight that allows you to dive up to 20 meters (33 feet).
It has five different modes of lighting including a strobe for those dark waters and visibility; each brightness level offers between 1-6 hours depending on how much power your device uses!
The battery is built-in and can be charged via a USB Type-C cable. The color temperature of the light without a diffuser reaches 5700k, with a 90 CRI rating! As an action camera flashlight, you attach it to your Go Pro Hero8 Black or use it as a typical one using any mount for GoPro cameras like these: Hero 9 or Hero 10
But there are other ways too – if not suited well enough by just sitting on top then consider getting yourself some additional accessories such as flood lights which would make everything much easier during those nighttime shoots
ULANZI LED Video Light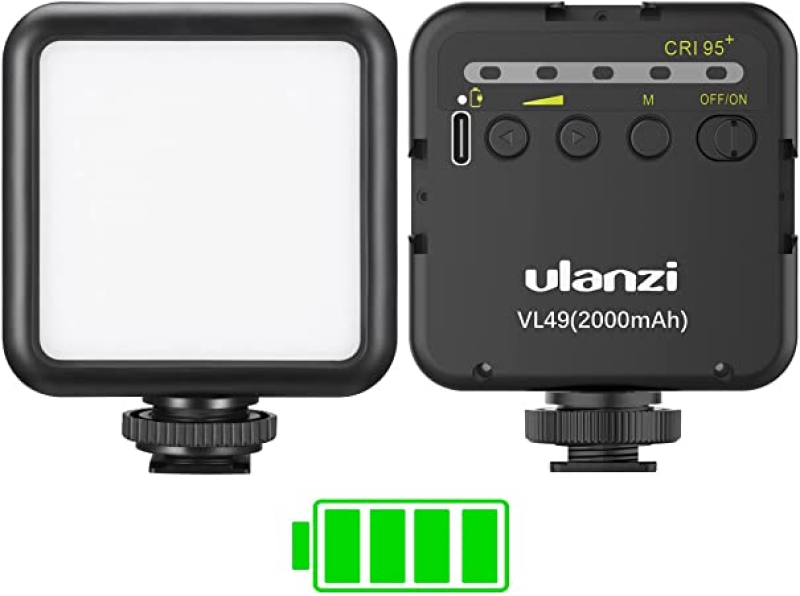 This powerful action camera flashlight is perfect for low-light video or photography. It has 81 LEDs – 40 of them give warm lights while 41 are cool, depending on which beads you have bought to put onto your device!
You can charge this bad boy using either a USB Type C cable (for 3 hours) OR remove the built-in lithium battery & use an external charger instead; just make sure it's got at least one charging port available because these things usually don't come with two ports attached as regular phones do… But if I were talking about something really special then maybe consider the ULANZI VL60 which comes with an extra slot!
The action camera flashlight is a 3-inch by 5.6-inch device with three cold shoe mounts, making it compatible with microphones and other accessories to be attached easily anytime during your adventure!
It also comes equipped as universal hot shoes mount so that you can use this light on many different types of cameras – from compact cameras up through DSLRs or mirrorless models alike."
Suptig LED Video Light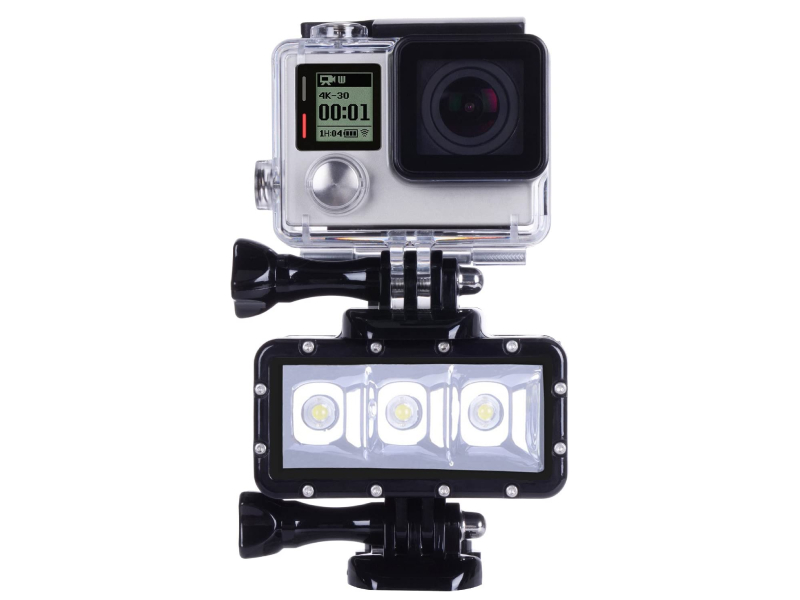 With this action camera flashlight, you can aim the light and select between 2500k, 5250k, or 8000k.
This makes it perfect for night shots as well as low-light situations where a specific color temperature is needed like macro photography which requires more controlled lighting conditions than what our regular flash provides us with!
This tiny flashlight can be used by photographers of all kinds, whether they are on the go or just want some extra light. With its compact size and easy grip, you won't have trouble holding onto this awesome device while taking those special moments in front of your camera lens
Neewer Waterproof Video Light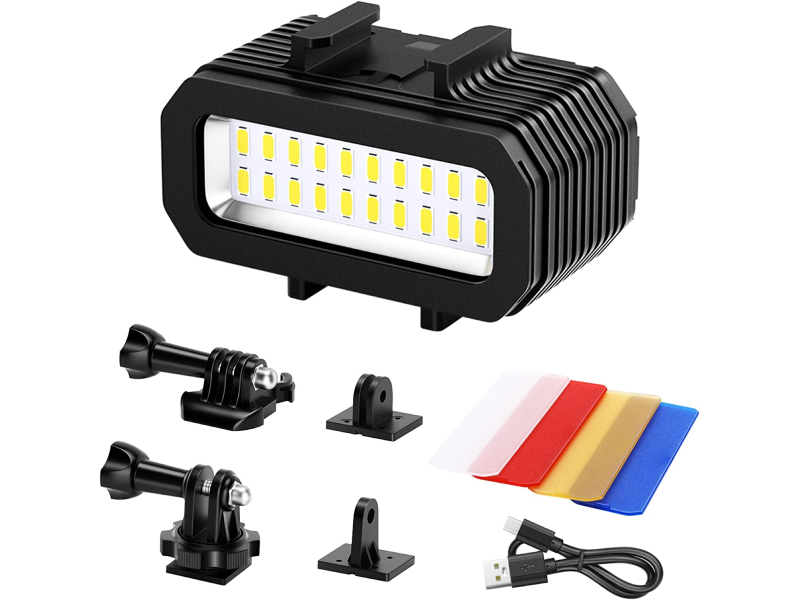 The Neewer Waterproof Video Light is an excellent choice to take with you on your next adventure. It's waterproof, so it can be used even when diving deep into water – up to 131 feet!
This means that this flashlight will always have the perfect light for any situation whether its day or night time video recording needs are being met; the white color filter helps create beautiful scenery videos while orange/purple hues give more intense colors without hurting their eyes during long periods of usage (especially if they're wearing glasses).
GoPro Zeus Mini Rechargeable Light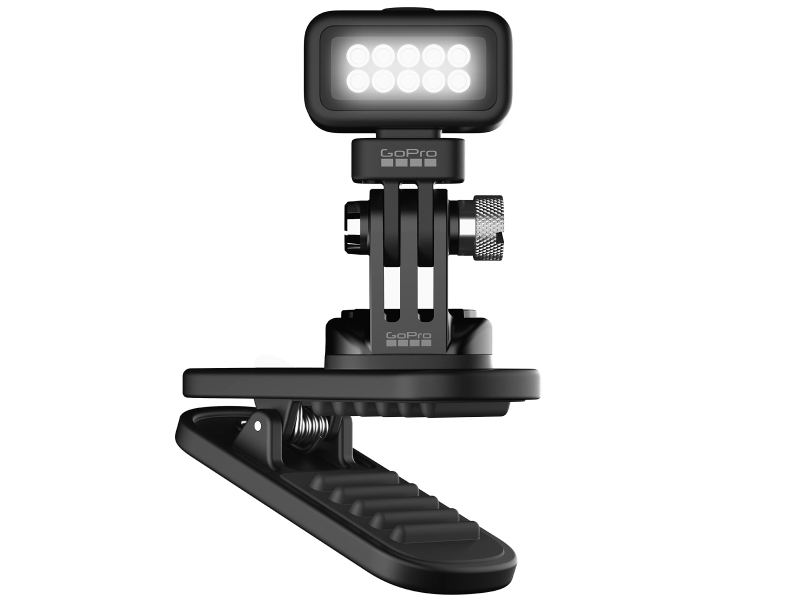 The waterproof and hands-free LED clip light is ideal for securely snapping away while hiking or during other recreational exercises.
It has a 360-degree solid swivel which makes it easy to change the angle of illumination, making this product a great choice if you want something that will work well with all your adventures!
This lightweight battery-operated gadget provides up to 6 hours on one charge so there's no need to worry about running out of power mid-trip again – just make sure not to touch exposed LEDs when operating near water because they're very delicate!)
The light on this product is bright enough that you can use it as a helmet flashlight, even with the strobe mode activated. It's also water resistant so your adventure won't end if things get wet!
HONGDAK Diving Light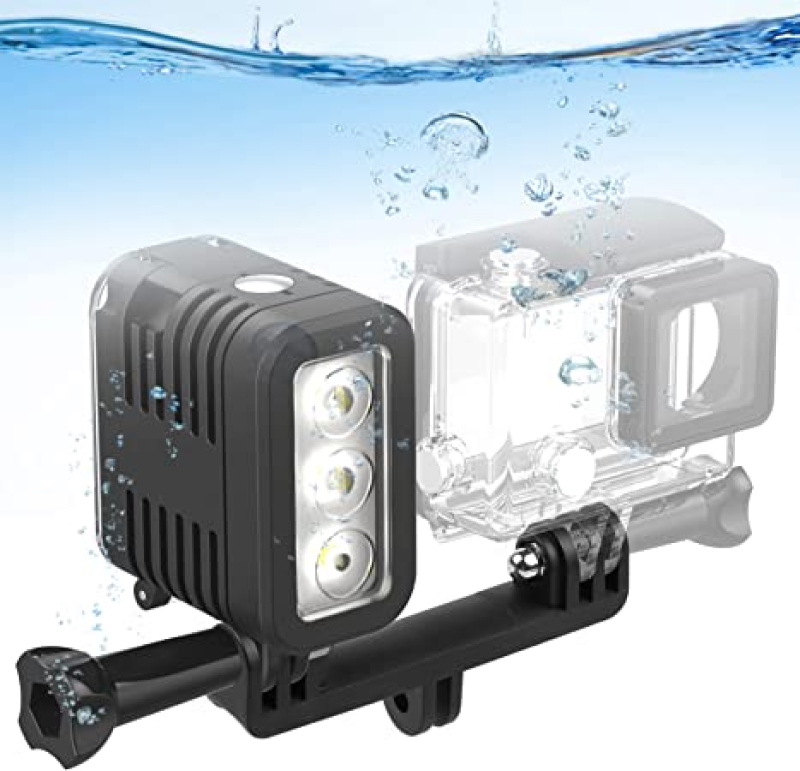 The HONGDAK Diving Light will be your new best friend when you're out on the water. This waterproof flashlight can dive up to 147 feet deep and still capture high-quality video because of its 400-lumen maximum brightness, and broad-angle illumination that illuminates everything around it while giving an immersive experience underwater with action cameras or just used as a regular light source during daytime hours!
The action camera light setup is the perfect option for recording all your adventures. It has three LEDs that emit 400 lumens at a broad angle, 55000K-6000k!
It's portable and weighs 0.4 pounds so you can take it anywhere with ease; in addition to this great feature, there's also 1000mAh polymer battery life which means plenty of power when needed most – even underwater repeatably if necessary!!
Finally, these lights come backed by our 2-year warranty as well as a 30-day money-back guarantee making them risk-free purchase
VILTROX VL-162T LED Video Light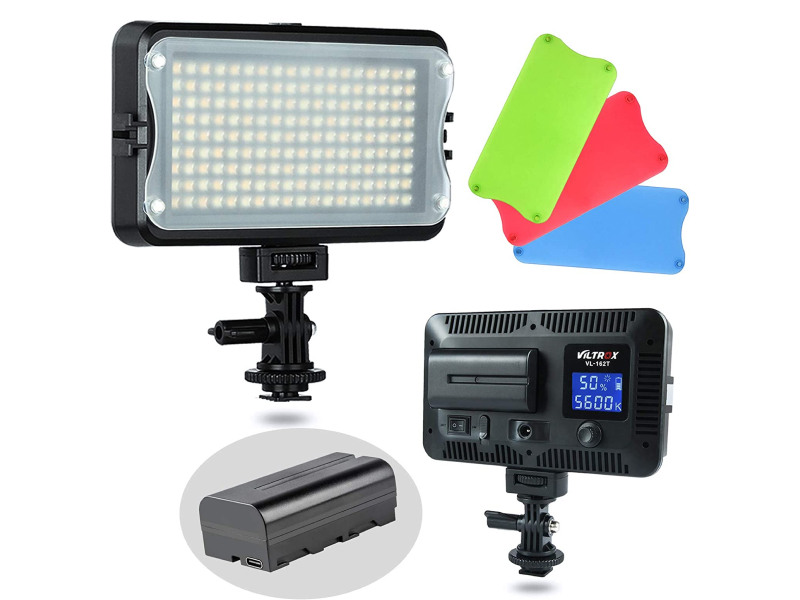 The VILTROX LED Video Light features 162 LEDs, adjustable brightness from 20%-100% with a max of 1070 lumens. It also has four filters: white/red/green colors for customizing your look or removing them if desired; 1250 lux 1m (4000cd) at 5700k-6200 k replacements allow you to shoot in lower light environments like dawn and dusk while maintaining high-quality video footage!
The camera includes removable batteries so their output varies depending on how long they last but typically operate between 3 -5 hours when fully charged
The lightweight and compact design of this light makes it perfect for emergency kits, outdoor adventures, or everyday use. It features two side slots that can hold extra flashlights when needed as well hot shoe mount allowing you to adjust direction at will!
Nitecore EA 41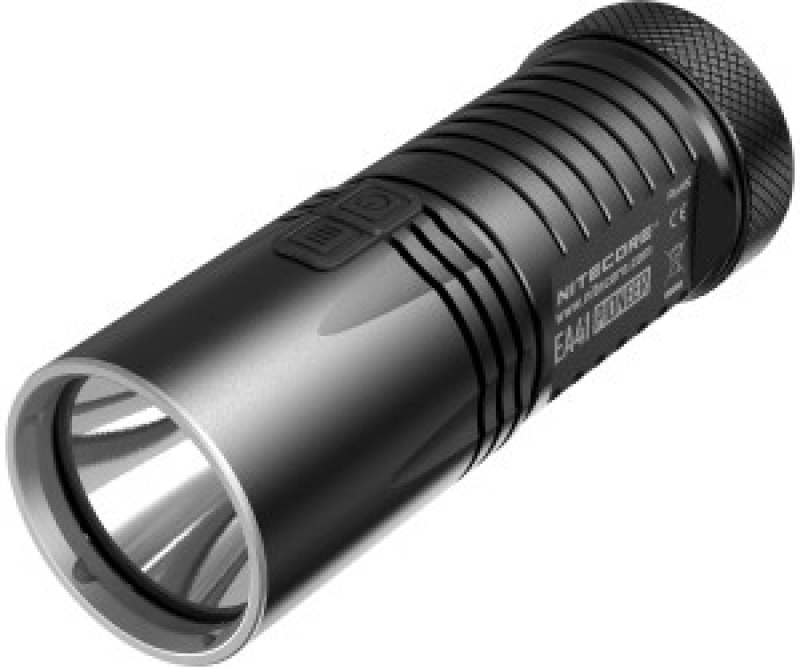 The Nitecore EA 41 is a great choice for those who want to be prepared and organized. It has an incredibly bright beam, which travels several meters when in use – perfect if you need your light near or at hand!
This sturdy little guy won't break despite how much abuse it takes during outdoor adventures like backpacking trips with friends; there's also no chance that this will happen because it's made out of strong material designed specifically so that durability wasn't sacrificed even though output was increased significantly over previous models
How to choose the best action camera flashlight for your needs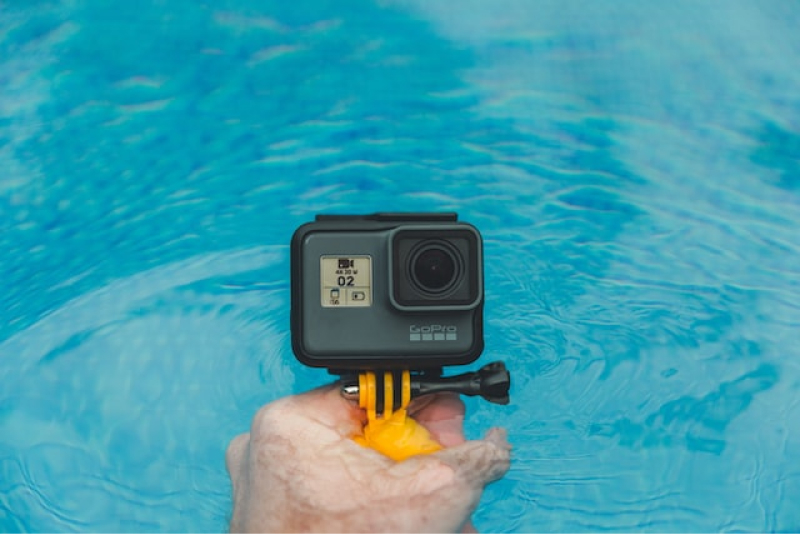 When choosing a flashlight for your action camera, there are a few factors to consider:
1. Size and weight: You'll want a flashlight that's small and lightweight so it doesn't add extra bulk to your camera gear.
2. Brightness: The brighter the flashlight, the better it will be for shooting in low-light conditions.
3. Beam distance: The further the beam distance, the better it will be for illuminating large areas.
4. Waterproofing: Make sure the flashlight is waterproof so you can use it in all kinds of weather conditions.
Once you've considered these factors, choose the flashlight that best fits your needs and requirements. And don't forget to take it with you on all your shoots!
Tips for using an action camera flashlight
1. ISO – The action camera flashlight will allow you to take pictures in low light and night shots with reduced noise. By lowering your ISO value, it's possible for a coarser grain size which makes the image appear more clearly than if it's been shot on higher settings (i know some people love this).
2. Shutter Speed – The more powerful your action camera flashlight is, the faster you can set a fast shutter speed. This means that if there's any motion in front of an image and it'll be frozen so everything stays clear!
3. Aperture – To get a deeper depth of field, you can close the aperture and let in more light. If your action camera flashlight is not bright enough for what it's worth try opening up these settings so that they are at their brightest levels.
4. White Balance – The white balance setting on your camera can have a big impact on the final product. Make sure you check that it's set correctly before taking any photos or videos with an action cam!
4. Diffusers – Moving the diffuser cushion closer or further from your camera will change how much light reaches it. The more you move, the brighter and softer that area becomes – just make sure not to miss any important footage by adjusting beam strength!
4. Extra-long battery life – The extra-long battery life is a huge advantage of this product. You can avoid running out by bringing external batteries or power banks if your Action Camera Flashlight has removable batteries and/or a built-in recharging system!
4. Save battery – When shooting in low light situations, it's important to consider your camera settings and what will best suit the type of situation. For example, if you are taking a photo at night or indoors with an action camera and flashlight on maximum power may not be needed because there is little natural lighting present which would instead require dimming downlights from afar using filters/lenses.
Final thoughts on action camera flashlights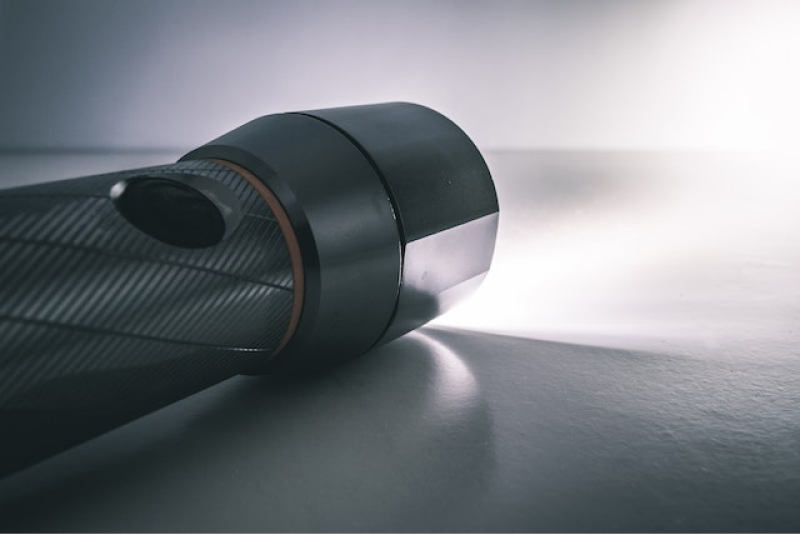 So, there you have it: everything you need to know about action camera flashlights. Now that you know the pros and cons of using a flashlight with your action camera, you can make an informed decision about whether or not it's right for you.
I think they're a great way to get more out of your action camera, but ultimately the decision is up to you. Just remember to stay safe and have fun!